Monday, November 14, 2011
Monday, November 7, 2011
Tuesday, November 1, 2011
Title: Darkness Unbound
Author:
Keri Arthur
Series: A Dark Angels Novel
Publisher: Random House Publishing Group
Published: September 27, 2011
Format: Mass Market Paperbound ($9.99 CDN)
Age Group: Adult Paranormal Romance
Synopsis:
Being half werewolf and half Aedh, Risa Jones can enter the twilight realms between life and death and see the reapers, supernatural beings that collect the souls of the dead. But she soon makes a terrifying discovery: Some sinister force is stealing souls, preventing the dead from ever knowing the afterlife.

Reapers escort souls-not snatch them-but Risa is still unnerved when a reaper shadows her in search of someone Risa has never met: her own father, an Aedh priest, who is rumored to be tampering with the gates of hell for a dark purpose. With the help of her "aunt" half-werewolf, half-vampire Riley Jenson-and an Aedh named Lucian who may have lost his wings but none of his sex appeal, Risa must pursue whatever shadowy practitioner of blood magic is seizing souls, and somehow stop her father . . . before all hell breaks loose.
I was HUGELY disappointed when I learned that Keri Arthur was ending my favorite Riley Jenson Guardian series, but when I learned she was doing a spinn off featuring Risa Jones (a character who was a baby in the Jenson series) I was very excited. Months after reading the last Riley Jenson novel I had completely forgotten about this new series until I came upon it on a table in Chapters. I snached the book off the table and did a little (but loud) *squee* drawing the attention of strangers who must have thought I was a little weird.
From the very first chapter following through to the end of the novel I was captivated by intriguing plot lines, likeable new characters and sexy, blush worthy sex scenes, not to mention the involvement of some of my favorite characters from the Jenson series.
If you are a fan of urban fantasy and paranormal romance novels this series (and the Jenson series if you have not read it) should be at the very top of your reading list especially if you are a fan of....ummmmm....errrrr *blush* very graphic sex scenes. The characters in this series run the spectrum of supernaturals including werewolves, ghosts, Aedh, vampires, reapers, shapeshifters, mediums, and more.
As a protagonist Risa is quickly climbing her way to being one of my favorite leading female characters. She's a winning mixture of sass, sexiness, and sensuality that when added to her also being an assertive, resilient and independent woman, she becomes the type of character that paranormal readers will fall in love with. Being half werewolf (inherited from her mother) Risa was gifted with heightened senses, fast healing, and a heightened sex drive, but unfortunately not with the ability to shift into werewolf form. Her father, a Aedh Priest has given her the ability to dematerialize her body into a vaporous form which proves to be a valuable ability throughout the novel.
Darkness Unbound includes two very sexy male leads. Azreal is a very stoic Reaper who is charged with shadowing Risa in the hopes of locating her Aedh father. Along the way the merest hint of sexual tension begins between these two characters as he helps her defeat a darkness that steals the soul of a helpless little girl. The second male lead, Lucian is a full blooded Aedh who has lost his wings and ability to shift into vaporous form. The sexual banter that goes back and forth between Risa and Lucian quickly leads to steamy sex scenes that would make any woman blush.
Lucky for me after finishing this novel I was immediately able to go out and purchase the second novel in this series, Darkness Rising as it was just released. I can see that this series is quickly becoming a new favorite of mine in the paranormal genre. If you to are a fan of Keri Arthur and her various paranormal series please feel free to comment on what your favorite books are in the series and who your favorite characters are!
My Rating:

5/5 AKA Exixir of Excellence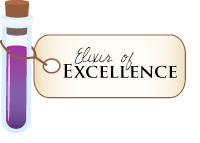 Posted by

The Book Guru
0 comments
Links to this post

Tuesday, October 18, 2011
Tuesday, October 4, 2011
Wednesday, August 24, 2011
Friday, August 19, 2011
Thursday, August 18, 2011
Wednesday, August 17, 2011
Thursday, March 24, 2011
Tuesday, February 8, 2011
Friday, January 14, 2011
Sunday, January 2, 2011